Why Create Content in Bali?
Content is king, they said.
Video content becomes such an important aspect in this digital age, whether you're starting a business, creating a new brand, or even for personal purposes on your social media. But what makes your video content so good and stand out from other content in the media?
One of the major factors is the location it takes place. A change of scenery could make such a big difference to your video, that's why choosing the right location becomes an important little thing to consider.
Bali, known for its unique arts and culture, has become the heart of creative people providing various services to help with your video content creation. From talented and beautiful models,  tourism video production people, Bali production house, photographers, videographers, make-up artists, and stylists that could help you achieve the perfect creative films you had in mind on the magical island of Bali.
Not only that, but the cost for Bali video production services is way more affordable, compared to other places. Ranging up to 20-30% less expensive in terms of cost differences. It's another benefit to consider Bali as the perfect setting for your video content creation.
Over the past few years, Bali has become a great tourists destination for many.
Remember those amazing pictures taken during your vacation in Bali? Green rice paddies with sunrise in the background, or a beautiful sunset at the beach. What a memorable piece of artistic memorabilia.
When you think of Bali, the first thing that comes to mind is its beautiful landscapes and sceneries. Stunning nature with natural temples, beaches, forests, waterfalls, trekking sites, and beautiful villas all across the island. All the perfect spots to take that video content of yours, whether it's for personal purposes or for your established company. 
Here are some of our recommendations of beautiful spots to make video content in Bali:
Beaches
Bali's beaches are famous for their stunning cliff and white sandy beach. Its emerald green seawater gives a tropical vibe and paints the perfect backdrop for your video content.
Nyang Nyang Beach
Balangan Beach
Temples
To foreigners, Bali is known as a magical and holy destination because of the various temples located all across the island, on land, and some floating on the sea. The temple's rock structure building exterior makes a beautiful cultural scenery for your video content.
Tanah Lot Temple
Lempuyan Luhur Temple
Waterfall
Waterfalls have become Bali's hidden gems for tourists and content creators. A 20-minute hike through the jungle is worth it for a breathtaking view of this little hidden paradise nestled in the middle jungle of Bali. Their crystal clear shallow water is perfect for that dip in the water shoot for your video content.
Banyumala Twin Waterfall
Aling Aling Waterfall
Rice Terrace
To the left and to your right, a lively green panoramic experience. Some strategically located rice terrace allows you to see both the sunrise and the sunset. Most rice terrace gives you an unbelievable view of the villages and mountains, making this the perfect aerial shot location.
Tegalalang Rice Terrace
Campuhan Ridge Walk
Mountains
Two of Bali's active volcanoes, Mount Agung and Mount Batur make a breathtaking view that is worth the hike. Witness the most beautiful sunrise in Bali on top of these two sacred mountains in the break of dawn. Fluffy magical clouds float all around with sunlight streaming through creating that perfect background to your video content. On a good sunny day, these mountains paint a picture-perfect view from afar.
Mt. Agung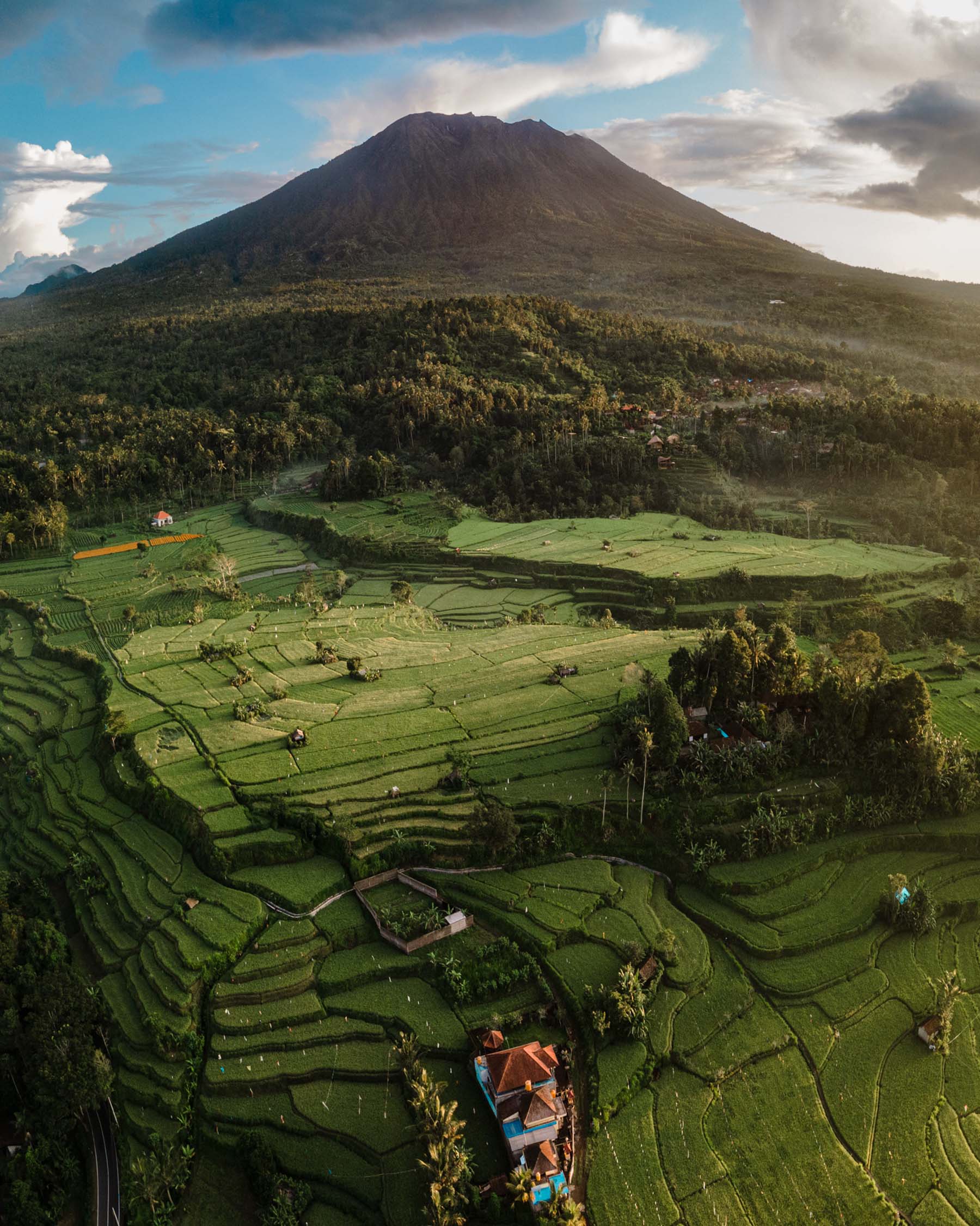 Mt. Batur
With all these various stunning landscapes and sceneries that Bali has to offer, all the more reasons for you to start shooting your video content or creative films in Bali. This island has become a paradise for content creators and any scaled businesses to start their journey in content creation and video production.
Tell us what other places have you visited in Bali?